Post-Doctoral Researcher
Dr. Renata Torres da Costa received my undergraduate degree in Biology at Universidade Metodista de São Paulo. She worked in an epidemiologic surveillance laboratory at Instituto Adolfo Lutz in Brazil. Dr. Torres da Costa earned my Master's degree in Biosystems at the Federal University of ABC in Sao Paulo, Brazil. Her Master's work focused on expressing a recombinant protein from Alphavirus using a eukaryotic expression system to develop specific serological diagnosis assays. Dr. Torres da Costa completed her Ph.D. in biochemistry at the Federal University of ABC in Brazil in 2020 – during her Ph.D. she established a cellular model to study the pathophysiological mechanisms of methylmalonic academia (an inborn error of metabolism) during neuronal maturation.
Dr. Torres da Costa's thesis focused on elucidating the molecular mechanisms involved in the mitochondria dysfunction caused by methylmalonic acid in neuronal and astrocytic cells as well as the effects of these disorders on the functionality of these cells in the nervous system. That work resulted in two manuscripts as a first author. After completing her Ph.D., she worked in a COVID-19 diagnosis laboratory at Centro Universitário FMABC in Brazil during the pandemic.
Students
Vendangi Hambardikar completed her bachelor's of Dental Surgery from Maharashtra University of Health Sciences (Pune, India), she moved to the United States to pursue higher education in research. She graduated with a master's degree in Biomaterial Science from New York University College of Dentistry in 2019, where she worked on a comparative study of various dental ceramic materials based on their structural and mechanical properties. This exposure to research motivated her to explore her interest in the field of cell biology. 
As a part of the Center for Computational and Integrated Biology Program (CCIB) at Rutgers University Camden, she joined Solesio Lab as a Ph.D. student. Currently, she is working on studying the potential role of inorganic polyP in certain energy pathways of the cell. 
Ernest ("Ernie") Scoma obtained his bachelor's in biology with a concentration in genetics from Rutgers University-New Brunswick. He is currently a master's student in the Biology program at Rutgers University and a member of Dr. Solesio's laboratory, his research interests include molecular mechanisms of aging and neurodegeneration. Ernest intends to pursue a career in science. His next step is to earn a Ph.D. in cellular biology. 
Currently, he is working on a project that studies the role of mitochondrial polyphosphate in cellular, pharmacological models of Parkinson's disease. 
Ers115@scarletmail.rutgers.edu
Lindsey Riggs received her Bachelor of Science in Biophysics from New Jersey Institute of Technology in 2021. She is currently a Ph.D. student in the Center for Computational and Integrative Biology (CCIB) program at Rutgers University – Camden and a member of the Solesio Laboratory. Her background includes computational research on Alzheimer's disease, specifically on the apolipoprotein e4 gene, which sparked her interest in neurodegenerative diseases and led her to continue doing research in this field. 
Lindsey is currently working on a project that focuses on the relationship of AMP-activated protein kinase and the concentration of inorganic polyphosphates in a pharmacological model of Alzheimer's disease.
Teresa Osorio is currently an undergraduate student at Rutgers University-Camden, she is pursuing a Bachelor's in Biology with a concentration in Chemistry. She is a NIH MARC U*STAR program recipient, which allows her to conduct research in the Solesio Lab.
Currently, Teresa is working on a project that studies the role of inorganic polyphosphate (polyP) in various annelid species. Her interests include exploring mitochondrial protein homeostasis, aging, and neurodegeneration molecular mechanisms. Additionally, as an undergraduate researcher in the lab, she has trained undergraduate students in biochemical techniques, which has significantly strengthened her mentoring skills. Besides her role in the Solesio Lab, Teresa serves as a resource and advocate for first-generation students as President of Black & Latin Excellence in STEM at Rutgers University-Camden.
Her experience as a researcher and as a leader on campus has been vital in shaping the trajectory of her career goals, as her next goal is to obtain a doctoral degree in behavioral neuroscience.
Matheus Moreira Perez received his Biomedical Sciences Universidade Paulista (UNIP, Sao Paulo – Brazil). He worked at University Health Center (FMABC, Santo Andre – Brazil) as a fellow of the molecular biology department, where he developed a project titled "Evaluation of MCT1, MCT4 and CD147 Genes in Peripheral Blood Cells of Breast Cancer Patients and Their Potential Use as Diagnostic and Prognostic Markers." Matheus conducted his Master's studies at University Health Center (FMABC). During his training, he actively participated in several projects, that focused on the MCT gene expression in solid tumor and liquid biopsies of men with prostate cancer. After graduation, he continued working in the lab for several years. During the COVID-19 pandemic, Matheus helped standardize the SARS-Cov-2 molecular diagnostic approach, by performing RT-qPCR on detect viral particles in patients' samples. Additionally, as a senior researcher in the lab, he trained graduate and undergraduate students in molecular biology techniques, which greatly strengthened his mentoring skills. Matheus' long-term goal is to pursue a successful academic research career in the field of health sciences.
matheusmpontoperez@gmail.com 
Former Lab Members
Dr. Mariona Guitart-Mampel joined Dr. Solesio's Laboratory as a postdoctoral researcher in September of 2019. She received her undergraduate degree in Biology at the Autonomous University of Barcelona. She had worked abroad in the Upstream Processing Department of the pharmaceutical company Synthon BV, located in Nijmegen in The Netherlands, thanks to a Leonardo Da Vinci grant from the European Union. She earned her master's degree in Biomedicine at the University of Barcelona.
She completed her Ph.D. in December of 2018 at the University of Barcelona. Her thesis focused on elucidating mitochondrial dysfunction in an obstetric complication named intrauterine growth restriction. That work led to the publication of two manuscripts as a first author. Additionally, she has been involved in other projects related to HIV infection in pregnancy and neurological diseases.
Currently, Dr. Guitart-Mampel is interested in elucidating the role of PolyP in mitochondrial function and bioenergetics in neurodegenerative diseases and aging.
Dr. Pedro Urquiza earned his degree in Biology at the University of Granada (Spain) in 2012. He went on to earn his master's degree in Physiology and Neuroscience at the University of Seville (Spain) in 2013. His master's work was carried out at the Biomedicine Research Institute of Seville (IBiS) on ​​Alzheimer's Disease (AD) research based on the characterization of glia cells response triggered by samples of AD patients.
During his Ph.D. studies at CIC bioGUNE Research Center (Derio, Spain) he worked in the field of rare diseases and focused on Congenital Erythropoietic Porphyria (CEP). His work allowed the development of a comprehensive drug detection strategy that integrates computational in silico and structural approaches, in combination with functional in cellular and in vivo experiments. The success of this strategy results in the detection of Ciclopirox drug as a pharmacological chaperone against CEP and indicates that pharmacological chaperones can be effectively used as a novel therapeutic intervention line against rare diseases when derived from protein misfolding.
After earning his Ph.D. in Biomedicine at the University of Basque Country in 2018 he joined Dr. María E. Solesio's laboratory as a post-doctoral researcher at the University of Rutgers in New Jersey. He is currently working on a project that incorporates inorganic polyphosphate as a chaperone in aging and neurodegenerative diseases.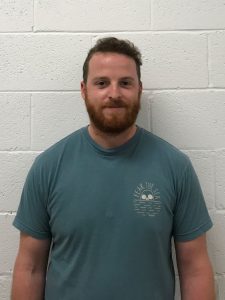 Brendan completed his bachelor's degree at Stockton University in Galloway New Jersey. At Stockton, he majored in biology with a concentration in biotechnology and a minor in chemistry. He is currently a master's student in the Biology program at Rutgers University, Camden. After finishing his master's, he plans on pursuing a career at a biotechnology or pharmaceutical company. He joined Dr. Solesio's laboratory to acquire techniques and knowledge that will aid him in a future career in biology.